Canned foods are great. They can just get popped on a shelf and taken down for quick snacks, meals, or sides as needed. They don't easily spoil and they don't require any special refrigeration or freezing. And you'll never forget about a can of soup tucked in the back of the cabinet, stumble across it months later, and wonder what that frightening mass of mold used to be, like those odd leftovers that get lost in the back of the fridge.
In fact, the only real problem with canned food is the cans themselves. You absolutely need a can opener to get those things open. Many cans come with convenient pull tabs now, so you aren't stuck with food you can't eat if you find yourself without a can opener or unable to use the one you do find (those who grew up with electric can openers often find it impossible to use manual ones in a pinch).
But many canned foods don't come with these handy little pull tops, so you are stuck without a means to access your food if you don't have your trusty can opener at the ready.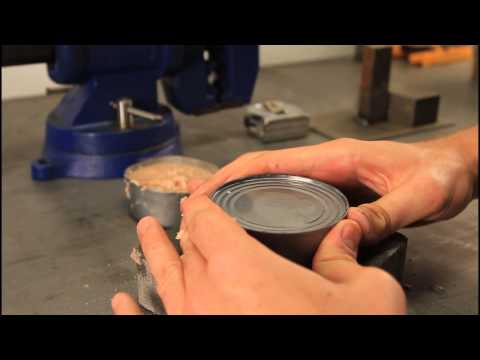 (Source: YouTube)
However, before you despair that those canned peaches may never find their way into your favorite dessert, there is a way to open cans that doesn't require a can opener. Plus, it's relatively simple and not particularly dangerous! It could result in a slight mess, though. Check out the video to see how you can open your canned foods without needing a can opener!
Yes, this method requires a little bit of elbow grease, but it doesn't require any tools at all! And it won't ruin your knives (the most obvious and more dangerous) method to open a can without a can opener. This is a good trick if you have canned good on a camping trip or a long car trip as well. And, of course, as the video said, it's an important can opening method if you ever find yourself with some can goods after an apocalypse. With a little practice, you could be a pro at the concrete can opening method!
Of course, you could also just make sure you had a can opener. For those electric can opener lovers, you can find some good selections here. But even if you do prefer electric openers, it's good to have a manual back up or two in case the power goes out or in situations where electricity may not be readily available (don't forget to pack a can opener in your zombie apocalypse survival kit!).
For manual can openers, check out these selections. You can also find both at your local stores. Most groceries stores carry the manual kind at least, and any store that has kitchen supplies will have electric ones as well.